What's New in Prince Rupert?
You May Have Noticed ...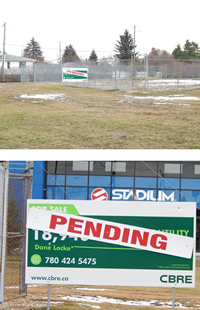 In your travels through our neighborhood you may have noticed a fenced off area at the north end (114th Ave) of the park that runs along 119th street. This is the former EPCOR electric power substation site which is up for sale. The actual fenced in area is about half the area noted on the For Sale sign (18,960 sq. ft.). EPCOR asked the City last winter if the City was interested in purchasing the property. The City declined and EPCOR is selling the property through CBRE but do not have any pending offers at this time. Current zoning for the site is Public Utilities (PU) which allows for uses such as other utility functions, protective or emergency services, signs, gardens, parks or recycling centers.
Although, there are currently no re-zoning or development permit applications, it is possible that a future developer could apply to the City for a change in zoning for the site. Such an application would require public notification consistent with City requirements.
As part of EPCOR's due diligence when they are selling a property, EPCOR commissioned Phase I and Phase II Environmental Site Assessments. The Assessment results were compliant and met the requirements established in the guidelines and standards set out by Alberta Environment and Parks.
The PRCL Needs Assistance
The volunteer board of Prince Rupert Community League is in need of your help.
We need a volunteer Treasurer who can manage the financial affairs of the league (with a paid bookkeeper), report to meetings, have signing authority and with the President build a budget.
We also need a volunteer Communications Director to manage the website, e-mails, Facebook and other media outlets as well as reporting to meetings.
When we divide the work involved in operating the community league everyone benefits, the community is served well, the board can get more things done and each individual learns new skills in a friendly environment.
Can you or someone you know help us?
Announcement
On November 2, the Prince Rupert community voted NO to continuing with a project to build and operate a multi-use facility in partnership with the Alberta Thai Association and the Terra Centre for Teen Parents. If you have any questions or concerns regarding this decision, please don't hesitate to reach out to one of your community league Board members.
The next meeting of the Community League will take place on December 7th in the Central Lions Building, room 12 at 7:00 pm.